Speech Recognition Experts - Dragon Systems Reseller - Fully Trained Voice Enabling Engineers and Instructors on Staff
DragonDictate® Speech Recognition Software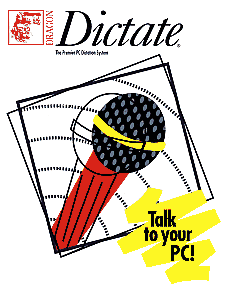 DragonDictate® is a speech recognition software package that allows you to dictate directly into your DOS or Windows® applications!
DragonDictate® typically has 94-98 percent accuracy at over 45 words per minute (free dictation), and is faster when you use Voice Macros (up to 1,000 keystrokes per macro)!
DragonDictate® has Accurate command and control capabilities, allowing you to access menus and dialog boxes!
DragonDictate® allows you to control your MOUSE by voice!
DragonDictate® is a useful tool for people with disabilities, as well as those without disabilities!
DragonDictate® permits people with Carpal Tunnel Syndrome (or other repetitive stress disorders) to return to work.
DragonDictate® is available for DOS or Windows, and comes in three editions, Personal,Classic and Power.
Classic Edition

The Classic Edition is the most popular, and has a 30,000 word personal vocabulary. It is extremely flexible and may be the best value.

Power Edition

The Power Edition has the largest personal vocabulary at 60,000 words. Professionals who require a very extensive vocabulary and use specialized words may want to purchase the Power Edition.
Get a Demo Version of DragonDictate®
Why DragonDictate® and Software Maintenance?
Call Toll Free For More Info: 1-888-343-3773
Email For More Info: dragondictate@ddwin.com

---
Copyright © 1996-2006 Software Maintenance, Inc. All Rights Reserved.